Effective, Proven & Affordable Speech Therapy and Language Therapy
Our Mission
We help children to eliminate frustrations from Speech, language or social skills problems, and enable them to keep up in school without too much stress, and be successful and happy.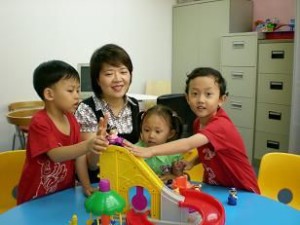 We also help adults to overcome their speech and language difficulties so that they can achieve more at work, and enjoy being more productive and successful.
We provide the most effective and efficient Speech, language, and social skills training programs for individuals with communications challenges.
Our clients will save valuable time, money and effort as a result.
Our desired end result is for our clients to integrate with their school, workplace, family at the maximum potential without being left behind.
Examples of communication disabilities or difficulties for individuals are Learning Difficulties (LD) including Specific Language impairment(SLI), Dyslexia, speech delay, lisp, mild to moderate ASD with Speech and or language impairment, articulation difficulties, auditory processing difficulties (APD), Stuttering / Stammering, cluttering, any developmental delay which impact their Speech, language and social skills.
We receive regular referrals from Paediatricians, ENTs, Psychiatrists, Doctors, Psychologists, Occupational Therapists, Physiotherapists, Childcare centres, Kindergartens, Primary Schools and other established therapy or enrichment centres.
Our Founder
Our founder, Ms Magan Chen brings with her more than 24 years of Speech and language therapy experience in both private hospital and enrichment centre settings.
This gives us exceptional understanding of our clients' medical and/or school needs. She has helped more than 1500 individuals to overcome their communication or Learning Difficulties.
Ms. Magan Chen trained in London, U.K. (M.Sc. Human Communication) and Sydney, Australia (B. App. Sc. in Speech Pathology).
Magan is a registered Certified Practising Speech Language Pathologist (CPSP) with the Speech Pathology Australia. She is also the founding President and a registered member of Speech-Language and Hearing Association Singapore (SHAS), the professional body representing Speech Language Therapists in Singapore.
Magan has been interviewed and featured in various newspapers and magazines such as Young Parents Magazine, The Straits Times & The New Paper.
Together with Magan, our team of competent and caring Speech language therapists and teachers help hundreds of individuals improve their ability to communicate and have more say in life.
If you would like to see a highly experienced Speech language therapist / pathologist for an initial consultation, please call us at (65) 6223-7876.
Our Website
Our website outlines the programs at our centre for children and adults to address their speech (speech delay, articulation, stuttering /stammering), language and social skills issues.
We provide home study program to address stuttering or stammering.
We also provide valuable original Information (typical FAQ, articles) about Speech, language and social skills difficulties and answers questions that parents or adults frequently have.
You can also see more ongoing informational videos about various Speech, language or social skill problems or teaching tips in our blog.
Join Our Signature Programs