Effective, Proven & Affordable Speech Therapy and Language Therapy
Have you spent long hours shopping and searching in vain for an educational toy to teach your child to speak in sentences?
Are you frustrated at not finding intelligent educational toys to show your child how to put words in the right order?
Have you ever bought 'educational' toys, only to find that your child doesn't want to play with it because it is not 'fun'?
If your answer is 'Yes' to any of the questions above, please read on...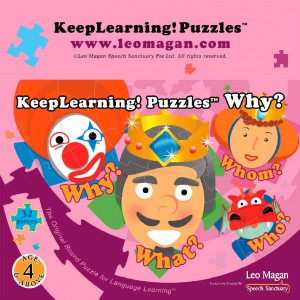 We have developed an exceptional fun child educational toy specifically for children to learn English sentence structure.
We have harnessed decades of teaching experience of our product development team (speech language therapist and educational professionals) to design an intelligent, fun, visually stunning and highly durable educational toy.
Read on and discover how our featured product 'Keep Learning! Puzzles - Why?' jigsaw puzzle will have your child engaged in hours of exciting activities putting words into sentences.
By assembling the jigsaw puzzle pieces that describe 'Who' 'What' 'Whom' and 'Why', your child immediately learns how to express ideas using the correct sentence structure!
Our 'Keep Learning! Puzzles - Why?' jigsaw puzzle is perfect for:
are looking for an educational language teaching toy designed by teaching professionals for learning effectiveness and tested with children for fun while learning.
are getting a gift for a child – and you want something unique, educational, 'grows' with the child and is not found in any other retail shops.
… and the kid / child who:
is not speaking in sentences, says short incomplete sentences, or gets his words jumbled up.
and you want a self-correcting toy that shows him how we put words in the right order to form sentence structure.
is reading but not sure what words mean – and you want a reading comprehension activity that gets her interested in reading and improves reading comprehension through clear, detailed illustrations of the words.
gets distracted or bored when you are reading – and you want a toy that appeals to your child's strength in 'hands-on' learning while teaching him about language and reading.
has a short attention span or gets distracted easily – and you want a toy that rewards task completion and improves attention span.
We are committed to making our product and website 'learner friendly' as well as 'teacher friendly'...
Check out these learner friendly benefits for your child:
Self-correcting jigsaw puzzle design reinforces how words form sentences: By fitting together self-correcting jigsaw puzzle pieces that describe 'Who' 'What' 'Whom' and 'Why', your child immediately learns how to express ideas using the correct sentence structure!
Understand English sentence structure easily and clearly. Our jigsaw puzzle illustrations enable children to learn the exact meaning of each word, as well as the overall context when words are combined into sentences!
Innovative design: The attractive round pizza shape jigsaw puzzle encourages task completion and learning the different language themes.
PLUS teacher friendly benefits for discerning parents and busy teachers…
Teaching ideas: Our teacher friendly learning activities will have you worry less about what to do... This means better focus on teaching sentence structures to your child!
Makes you more popular with your child: The colourful pizza shape jigsaw puzzle will have your child eager to learn and encourages better parent child or teacher student interaction!
Fun and convenience: Save yourself the money, time and effort searching for toys that 'teach' but do not excite your child. We deliver this highly desirable educational toy straight to your home!
Check out the videos below on how the LeoMagan Puzzle can help your child answer 'Who' 'What' 'Whom' and 'Why' questions…
Here's what our satisfied parents say:
"The LeoMagan Puzzle is something my children and godchildren really enjoy playing together… Unlike some other toys, this jigsaw puzzle gets them interacting and busy talking to each other while playing…"

- Mrs. Soh, mother of Soh J.H. and Soh S.Q.
"My child learns how to express herself verbally, sequentially, logically whilst honing her reading skills… My daughter has bloomed in confidence and eloquence after playing and learning with the puzzle… I recommend every family to own one. It is an asset in every child's learning kit."


Jun, mother of I. Sarah O.
"This is very good for kids to learn sentence structure as the child puts the jigsaw puzzle together. It helps them to actually learn and visualize the logical sequence of the sentence structure by doing it hands-on."

- May L., Nicole's aunt and Nicole's grandmother.
"The colours are vibrant, visually stunning and very attractive to my child. The content is very well put together… I have not seen this anywhere else. This is a fantastic product worthy of strong recommendation to any serious parents who want their children to have a fun and great educational toy!"


Mrs. Chen, mother of T. Liang Chen, Taiwan
Give Your Child a Fun Early Start to Learning English Sentence Structure..
Please feel free to drop by our centre to purchase the puzzle or drop us a message at our Contact Page!
Join Our Signature Programs